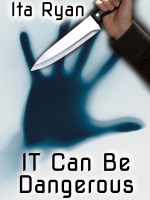 IT Can Be Dangerous
Cynthia's had a rough day.
And now she's found Nathan's body.
This could impact negatively on her performance review. Not to mention that the police are bound to suspect her, seeing as how she has no alibi and was cutting code right outside his office when he was murdered.
Explaining that techies rarely interact with managers for long enough to kill them isn't going to sort the problem. There's only one thing to do before she's arrested – find the killer herself.
How hard can it be? She has a hotline to Nathan's devilishly handsome son, enthusiastic friends and a lifetime's expertise in armchair detection.
Cynthia's exploits soon reach the ears of the enigmatic Superintendent in charge of the case. She can handle that, but then she attracts the murderer's attention…
Book Overview
"A well-crafted whodunit is deftly set up and unfolded for us in high-tech London cubicle-land, with looming deadlines, debugging, redundancies, outsourcing, a mysterious handsome stranger…and a bit of office backstabbing.
With a knife.
In the corner office."
"…lots of laughs…"
"As for whodunit, the clues were all there, but I never suspected until the culprit was revealed at the climax. For me, that is the acid test of a good murder mystery…"
"…a delightful combination of humor and suspense."
"I finished your book at 3am this morning. Very impressed."
2013