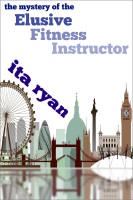 I've always wanted to be a writer, but I never had any ideas.  Not until I got so sick of sitting in front of my boss's office that I started wondering what would happen if he got stabbed in there…
The result was a novel, IT Can Be Dangerous, now available on Amazon.
Musing over what my novel's heroine, Cynthia Hegarty, did after she found her boss's killer led to a short story, The Mystery of the Elusive Fitness Instructor.  It's available as an ebook, free at Smashwords.  It was longlisted for the RTE Guide/Penguin Ireland short story competition in 2011. It's a ten-minute read.  Download it as a pdf from Smashwords and have a chuckle over a cup of tea.
Another story, Only Four Girls, was shortlisted for the RTE Francis MacManus short story prize in 2009 and was broadcast on Ireland's national radio station, RTE1.
I live with my family at a very scenic location on the Ring of Kerry, Ireland.
If you'd like to know when I do a reading or release a new story you can:
- follow me on Twitter (see link at top of this page)
- join my mailing list (see the form in the bar on the right)* .
*Note on mailing list: I take my readers' privacy very seriously and will never share my mailing list with anyone else. Email frequency is low – a burst of two or three emails when I publish something, followed by long periods of silence. To sign up, use the form in the bar on the left. Just input your first name and email address, and choose the kind of mail you'd prefer to receive. (If in doubt, probably choose HTML.) Finally, of course, click 'Subscribe'.